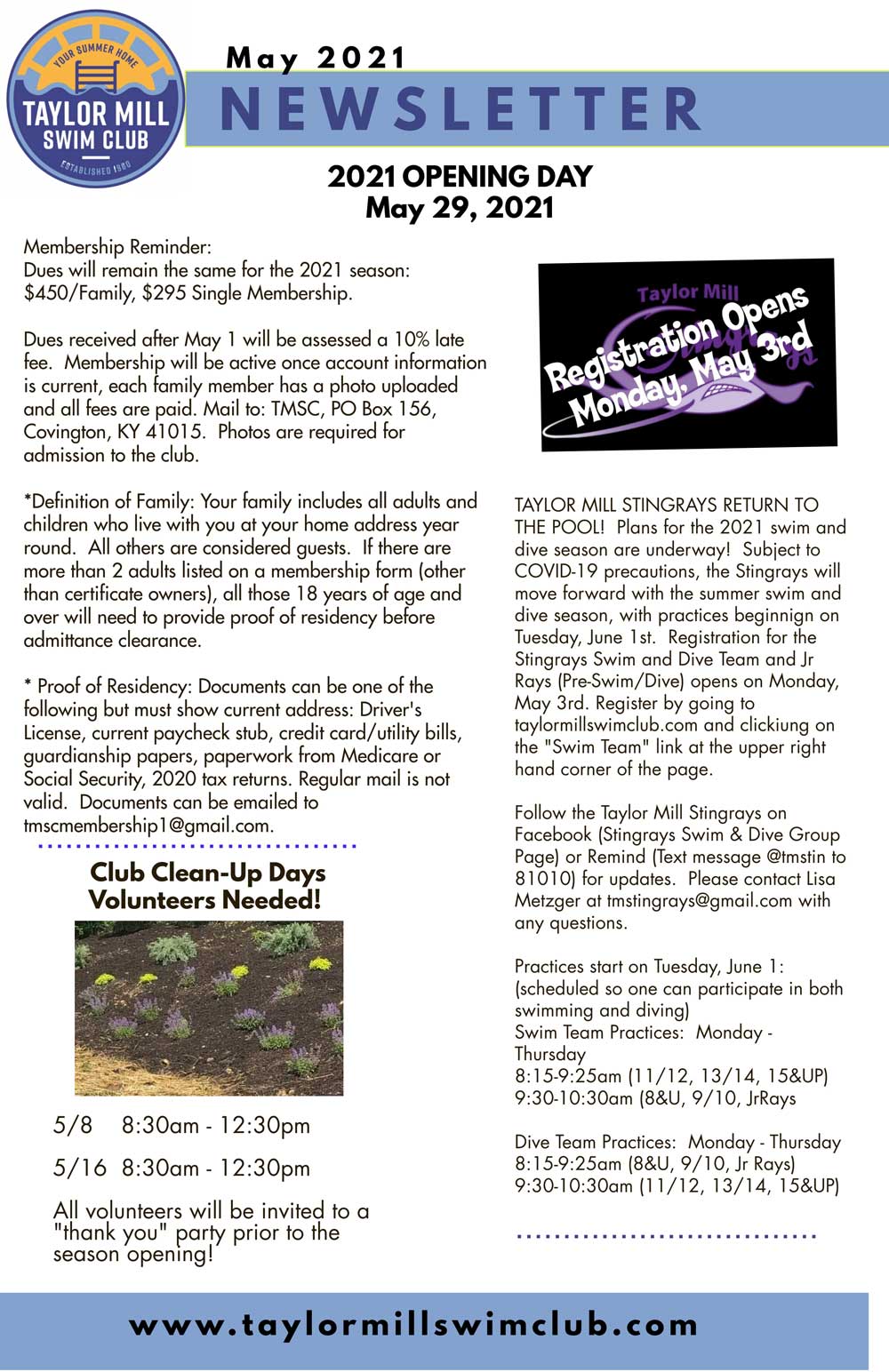 Past Newsletters
2021 TMSC Board Members:
Kim Wolf                            President
Andrea Reinersman      Vice President
Kristie Chisenhall           Secretary
Amy Jones                         Membership Secretary
John Hilbert                      Treasurer
Lynn Berk                               Mimi Ellinghausen
Robert Garner                       Margie Giffen
Scott Ketterer                        Mark Kreimborg
Danny McNeill                      Amy Novak
Matt Rauch                            Tracey Saylor
Robin Sheehy                        Tyler Wittmer
Erin Thoerner
 2020 Swim Club Dues: 
2020 dues remain the same as last year $450.00/family and $295.00/single membership.
Pay via system with credit card or check mailed and postmarked on or before April 1 to receive 10 free guest passes valid during the 2020 season.
Dues must be paid online or postmarked on or before May 1. After May 1, you will be assessed a 10% late fee.  Memberships will be activated once account information is current and all fees are paid.
 **Membership accounts in eSoft are audited annually.  Please verify your account information in accurate and the appropriate paperwork and photos are included.
***Definition of Family: Your family includes all adults and children who live with you at your home address year-round. All others are considered guests. If there are more than 2 adults listed on a membership form (other than certificate owners), all those 18 years of age and over will need to provide proof of residency before admittance clearance.
***Proof of Residency: Documents can be one of the following, but must show current address:  Photo ID's (Driver's Lic. preferred); current paycheck stub; credit card/utility bills in an individual's name; guardianship papers; paperwork from Medicare or Social Security; Tax returns (with the home address shown) filed for 2019. Regular mail is not valid.
Single Memberships:  Currently sold out. Please email [email protected] to be added to the waitlist or to inquire if you have a single membership. Please do not pay for a single membership online unless you are already a single membership owner.
We have TMSC Bonds available!  Refer a new member and receive a $50 referral incentive (for existing members). The applicant must list the referrer in the section provided on the membership application. The referral incentive will be paid to the referrer after the new member pays all applicable fees. New members only – does not apply to transfers.
 2020 Guest Prices at the Door:
Daily Rate: $8.00 (between 11am & 5pm until close)
Evening & Non-Swimmer: $4.00 (after 5:00pm until close)
 *Reminder: A Member must always accompany their guest while at the Taylor Mill Swim Club.                       
 Prepaid Guest Passes can be purchased ONLINE with your membership at a discounted price: $6.00/pass, 10 pass minimum. This special pricing will be available until the pool closes on Memorial Day (9pm, Monday, May 25th).  (When purchasing, please take into consideration guest passes are valid during the 2020 season only and do not carry over.)
Pool Leak Update – You may have heard we were experiencing some water leakage the past few seasons.  We have been working to identify and address the problem during the off season.  We are in the process of replacing a cracked return line this week.
Activities at TMSC
Check www.taylormillswimclub.com for 2020 events & activities, as well as the Bulletin Boards at the Club.  Stay tuned for additional tennis, volleyball and pickleball activities.
Interested in helping with social events?  Contact [email protected] and put TMSC Social Committee in the subject line.